Whether you travel full-time in your RV, or are patiently waiting for the upcoming camping season, the winter months are a great time to research and shop for your next Heartland RV. We introduced a variety of new floor plans this past fall, and if you haven't seen them yet, you'll want to connect with us on Facebook, Instagram and TikTok to see our latest walkthrough videos, floor plan images and new product innovations for 2023!
WORK NOW, PLAY LATER
Taking the time to research and conduct your own due diligence on a new RV will save you time, stress and maybe even financially down the road. These months when travel is slow is the perfect opportunity to research new models, floor plans, and features. Create your checklist of must-haves and write down any questions you have and take these with you when you go RV shopping! Not sure which questions to ask? We've put together a list to help get you started.
Being as informed about your current or next RV will ensure that you spend more time having fun and making memories along your journeys!
JOIN US AT THE FLORIDA RV SUPER SHOW
Everyone knows that the best way to choose the right RV is to see them in person! Heartland RV will be at the Florida RV Super Show January 18-22, 2023 at the Florida State Fairgrounds. This is your opportunity to see our newest models, floor plans and features on your wish list on display with an authorized Heartland dealer. Looking for a specific model or floor plan? Visit the link to see a full list of Heartland brands and floor plans that will be at the show!
We have recently launched our new Heartland retail store! This online store offers a variety of apparel – sweatshirts, collared shirts, t-shirts, socks as well as great accessories for both inside and outside your RV!
Any Heartland owner can purchase Heartland branded merchandise; however, as a Heartland Owners Club member, you have access to an exclusive section where you can customize items with your brand and/or Club logo and show off your brand with pride! Not only that, once you create an account, as an HOC member, you will receive an automatic 10% discount at checkout on EVERY order!
At just under 23' in length, the Sundance 19HB provides maximum functionality in all the right places! Up to four people can sleep inside this ultra-lite travel trailer with a queen-sized bed and booth dinette seating that converts into a second sleep space. The flip-up baggage door provides easy stow-and-go for larger items and gear.
RVLOCK
Imagine never having to fumble or keep track of your RV keys again. Well, RVLock can make that happen! Upgrading your standard lock to a RVLock Keyless Entry System allows you to lock and unlock your rig with a push of a button and provides an added security measure.
Most RVers do not realize that only a handful of keycodes exist in the RV market. This means your camping neighbor or someone at the campsite may be able to open your rig with their own keys. RVLock has solved that security flaw by developing thousands of unique key codes, greatly decreasing the odds of neighboring campers having the same key codes.
RVLock products are the highest quality and the latest technology in trailer security products on the market. As a family-owned and operated small business, RVLock has been the #1 best-selling premium handle upgrade for RVers for over 10 years. This is an essential upgrade for all RVers.
RV DIAGNOSTICS
On an episode of our Launching Life's Journeys podcast, we introduce someone who can save you money and help you learn how to take care of your rig. Jeff Malatesta, the Founder, and a technician at RV Diagnostics has held a multitude of mechanic positions over the past 40 years. The most memorable being his service in the United States Army where he worked on all types of vehicles including M1 tanks. He served in both Germany and Iraq.
Over the past 25 years, Jeff has worked with a steady increase of electronics and electrical systems, giving him an edge over the competition. He was also an instructor for both advanced electronics and engine drive-ability classes. Jeff is ASE (Automotive Service Excellence) master certified in automobile, medium and heavy trucks, gas and diesel, and advanced gas and diesel.
Today we just simply dive into how to save money, how to learn more about your own RV, why going to RV Diagnostics is the way to go, how to take care of your RV, and more!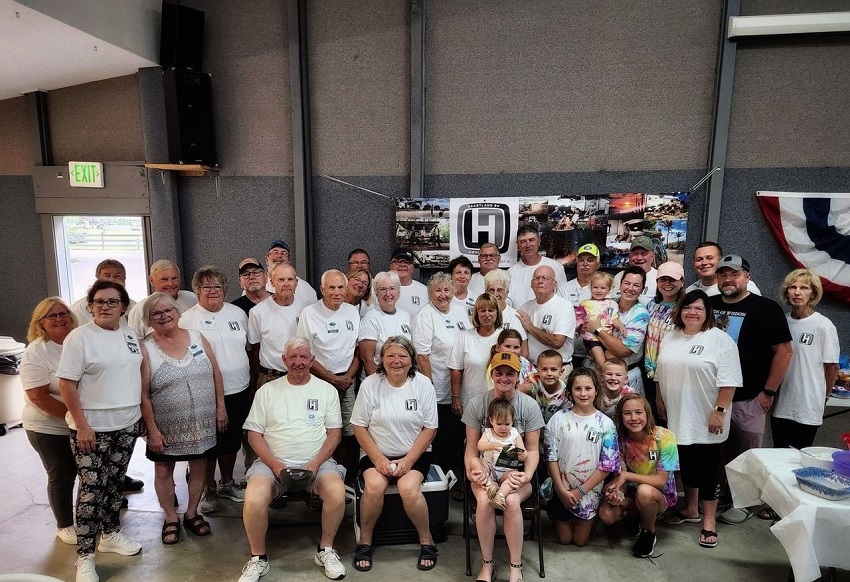 The Heartland Owners Club, often referred to as the HOC, is a free, membership-based group of Heartland RV owners. Joining the club connects you to the thousands of other owners and allows you to share tips and tricks, inspiration and DIY projects for storage solutions and after-market upgrades and provides you with a sense of comradery and family with knowing that no matter where you are, you likely have another Heartlander nearby.
With club membership, you are also welcomed to attend all Heartland Owners Club events that are held in various locations throughout the year. These dates can be found within the newsletter, on the owner's forum and on the Heartland Owners Club Facebook group page. These events are all unique and provide the opportunity to discover new locations, meet new friends, catch up with old friends and enjoy the camping lifestyle with like-minded people.
Lastly, as part of your membership, you can receive special discounts from after-market vendors as well as Heartland-branded swag and apparel.
Social Media Brand Ambassador Program
Heartland RV is proud to offer the opportunity to become a Social Media Brand Ambassador. These ambassadors are Heartland owners sharing their journeys via social media and creating content to share with others along the way. Each partnership is unique and is designed to fit the niche of each ambassador. Are you a writer who enjoys crafting articles about recent travels or how you keep your RV organized? Maybe you enjoy telling your life's journeys in the form of video content. We're always looking for those hidden gems that capture what it means to be a Heartland owner. For consideration, please email your story, social media deck and any additional information to marketing@heartlandrvs.com.
Tag us in your winter travels or your winterization videos and we may share to our social channels! Stay updated with news, product launches, new floor plans and more by visiting our website and connecting with us on Facebook, Instagram, TikTok and YouTube!